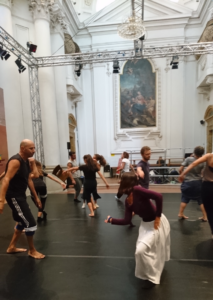 The workshop explores body language and creativity. Lisa da Boit and Rudi Galindo wish to transform the pleasure of dance, of the dancing body through its imperfections, its fragility but also its beauty and poetry in physical differences. The artists propose a participative movement workshop around the topic of time, memory and are given to an audience of various generations. They aim to promote the meeting of people from different communities and social backgrounds.
This proposal is defined through these two objectives : the personal development and the creation of a group through a creative process in which everyone is involved.
The methodology of the work is based on body development, conscientiousness and appropriation of the space, the relation to the group and the imaginary.
Practical information : This workshop is organized with the cultural venue and its local partners. More or less 15 participants and 2 choreographers.
Duration: one or two half-day, followed by the show «Il Dolce Domani".